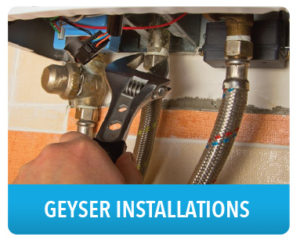 Gas geysers are sophisticated and call for the knowledge and experience of professional installers to safely do the job. We are proud of being the most preferred company for installations, repairs, and maintenance of Gas and Solar Geysers in Centurion.
We recommend that you to seek the services of a qualified professional as opposed to doing it on your own or depend on an unqualified geyser installation company. A poorly installed geyser is likely a liability and may also end up to be the reason you incur huge energy bills.
Geysers are bulky and heavy, and it's not simple to have them properly and safely connected to your plumbing and power supply. Our team is made up of well qualified and experienced specialists who've been installing gas geysers Centurion wide for many years. We are well versed with machines of all kinds, no matter the make or model. We cater for all of Centurion and surrounding areas, and we also can offer consultations on quality geyser models for your office premises or home. We're also available for consultations on geyser upgrades to increase the energy efficiency of your property.
Before choosing a company to fix, replace or install your geyser, it's vital that you cross-check their credentials in providing such services. We'd like to confirm that we're a fully qualified and experienced. Whether you need our services for your residential, commercial, or industrial establishment, we're available at all times. Our reliable and affordable service caters for the following:
–       Centurion Geyser Repairs
–       Geyser fittings
–       Geysers Installations
–       Solar Water Heating Centurion
–       Hot Water Heating Systems
–       Home Heating Systems
Other Geyser Services:
Besides installing regular water heating tanks, we're also available for solar geysers Centurion services. More and more people are opting for gas geysers in Centurion to cut down on their energy expenses. We have the expertise in installing the two, error-free and at a cost-friendly price. To reduce any concerns you might have and make sure your safety, as well as bills,  are in check; we provide geyser maintenance contracts that'll minimize the likelihood of future refurbishment costs. Our affordable checks will ensure your water system runs smoothly.
Our Centurion plumbing service is reliable and cost-friendly and is available 24 hours a day, 7 days a week. For the best geyser maintenance and installations Centurion services, call the most trusted geyser services provider on 087 551 0825 today.